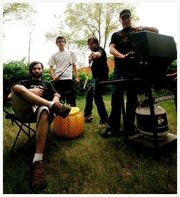 The Johnsons is a skatecore band from alberta, canada
Biography
Edit
2006 marks the release of The Johnsons sophomore album 'Gypsies For Life.' Songs like the title track Gypsies For Life, a comical anthem about touring nonstop, the angst-ridden, based-on-actual-events epic Meatbot 3000, a tale of meat eating robots that will eventually take over earth, or the real life story of Nathan Burge, People Call Me The Part-time Party Machine Because Sometimes I Like To Party and Other Times I Have To Work, prove that just maybe, the perfect album takes five years to create.
In the five years since their debut album, So I Says to the Guy was released, The Johnsons have played more than 400 shows all over North America. They've passed nearly 300,000 highway kilometer markers. They've shared the same stage as Protest The Hero, Satanic Surfers, SNFU, Cancer Bats, Death By Stereo, Choke, Belvedere, just to name a few.
They've downed a lot of beer, blown-out three vans, and partied with more people than they can count. They've lost their drummers on more than one occasion (the suckers aint down with the gypsy lifestyle). And along the way Nathan Burge (vocals/guitar), Calvin Kirwer (guitar/vocals), Nick Kouremenos (bass), and Dan Lilly (current drummer), have become one of the tightest punk rock outfits in Canada, beloved by an ever-increasing legion of loyal fans.
Life is good for this band, and it's no surprise that The Johnsons songs reveal that not every band needs to sing about girls, politics, or drive-bys. You only need to see them live once to know that they enjoy every minute of their live.
Nathan Burge - vocals, guitar
Calvin Kirwer - guitar, vocals
Nick Kouremenos - bass
Ian Frederick - drums