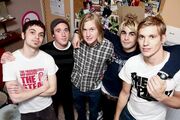 The Arteries are a rock band from Swansea, Wales, UK, whose music features prominent skatepunk elements.
Biography
Edit
The band formed in 2005.
According to Jamie, member of the band, The Arteries "aren't trying to change the world, we are just a bunch of friends that like to play music together and party - come and join in!"
Their debut album, Blood, Sweat & Beers was self-released in 3 parts over 2008 in the form of 3 colored 10" records. Later, it was made available via Household Name Records on CD format. Following that, the band released their sophomore album Dead Sea.
Miles - vocals
Jamie - bass, vocals
Jenks - guitar
Pillai - drums
Tim - guitar
Discography
Edit
2009 – Blood Sweat And Beers (SWFU!, Household Name)
2011 – Dead Sea

(Specialist Subject, Paper And Plastick)
2007 – Smash The New World Order/Stick To Your Guns (with Global Parasite, Complete Control Music)
2009 – The Arteries + The Cut Ups (SWFU!)