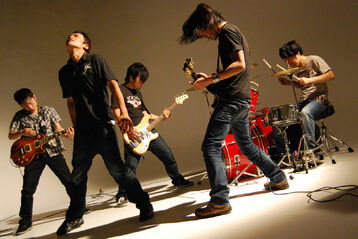 Sunsgrind are a five-piece japanese technical melodic hardcore band formed in 2001.
Biography
Edit
After releasing a Demo, two EP's an and album, and after returning from a three year hiatus, Sunsgrind were back to produce new material with their old vocalist, Ryo Kazama. 'Like A Grown-Up Expressions' was their first work after their return. Fans and critics hail them as a very technical and super fast band amongst the skate-punk scene.
Kazama: Vocals
Jun: Guitar
Yasuke: Guitar
Osamu: Bass
Naoya: Drums
Discography
Edit
2004 — Misdirection
2010 - Like A Grown-Up Expressions
2005 - Far From A Precipice
2007 - Truth Is Eternal But With Lies
Skatepunkers
Edit
Ad blocker interference detected!
Wikia is a free-to-use site that makes money from advertising. We have a modified experience for viewers using ad blockers

Wikia is not accessible if you've made further modifications. Remove the custom ad blocker rule(s) and the page will load as expected.