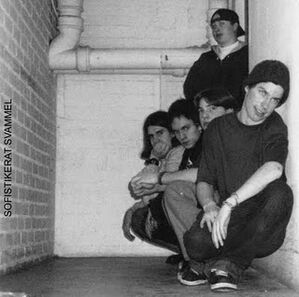 Sofistikerat Svammel was a Trallpunk band from Skellefteå, Västerbottens län, Sweden.
Biography
Edit
They unfortunately had a very short run between 1994 and 1996 but during these years they recorded 3 demos and participated to many shows.
Jonas Furberg - Vocal
Arvid Backlin - Guitar
Magnus Hellgren - Guitar
Fredrik Forsfjäll - Bass
Daniel Wilén - Drums
Discography
Edit
DemotapesEdit
1994 - Nödutgång
1995 - Promo 1
1996 - Promo 2
CompilationsEdit
1995 - Rämmel
1996 - Tre I En Vol. 1 - Split with Skumdum & Slutstation Tjernobyl (CD)
Ad blocker interference detected!
Wikia is a free-to-use site that makes money from advertising. We have a modified experience for viewers using ad blockers

Wikia is not accessible if you've made further modifications. Remove the custom ad blocker rule(s) and the page will load as expected.