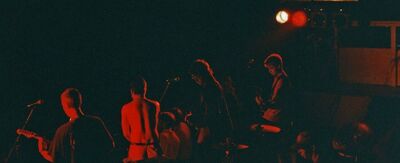 Quest Kon Fuse was a Power skatepunk band from Sherbrooke, Quebec, Canada.
Biography
Edit
Quest Kon-fuse was born at the end of summer 1996 when 5 friends sworn to live only for the creation of high intensity musical songs. Driven by a outstanding drummer and songwritter, Qk-F rapidly impose himself has a serious figure on the Punk and Metal scene. After only a few shows, the band created a solid and genuine relation with their fans and was soon in studio for the first recording of the band (Madness, 1996). More than a thousand fans bought the "Demo" and were soon asking for more Qk-f songs. They went back in studio in 1997 with new material and a new sound, more aggresive and more complete. Many promoter used Quest Konfuse as a opener for several great Punk band such as Good Riddance, Guttermouth, Jughead's Revenge, Reset(who will become Simple Plan), Subb, InSight, Lagwagon, GrimSkunk and more. People who are still asking for a comeback might just get what they want pretty soon!
Johell - Vocals
Max - Guitars
John - Guitars
Domingo - Bass
Peter Gunn - Drums, back vocals
Discography
Edit
DemotapesEdit
1996 - Madness (AudioBec- Studio Larry O'Malley)
1- Evil Jig
2- Red Sky
3- State of Mind
4- Get up and Live
5- Madness
6- Lost boy

1997 - Tears of Blood (AudioBec- Studio Larry O'Malley)
1- Tears of Blood
2- SuperHero
3- No Hope
4- Back Stabbing

CompilationsEdit
1998 - Round Up (Studio Nicko)
17- Kaiser

Ad blocker interference detected!
Wikia is a free-to-use site that makes money from advertising. We have a modified experience for viewers using ad blockers

Wikia is not accessible if you've made further modifications. Remove the custom ad blocker rule(s) and the page will load as expected.