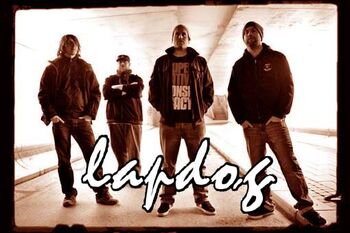 Lapdog is a fast punk rock band from Umeå, Sweden. The band was formed in 1992 but after the release of Knight For A Day the activity went down a bit, but around 2008-2009 they started rehearsing again.
Biography
Lapdog was formed in 1992.In 1995,they released their first Mini-Album Knight For A Day on Ampersand Records .Their Main Influences were the American Punk and Hardcore Sound,from which they made their own Sound.The Band disbanned due drug Problems but in 2009,they reformed stronger than ever.The Bandleader Alexander never stopped composing songs during that time.In 2011, they released their second Album The Lonely Sound.
Members
Alexander Holmberg - Vocals and Guitar
Fredrik Sehlin - Guitar
Mattias Norberg - Bass
Tomas Andersson - Drums
Lapdog's songwriting is mostly done by guitar player Alexander, who also wrote the lyrics.
Discography
Edit
2011 — The Lonely Sound
2014 - The Perpetual Race
Skatepunkers
Edit