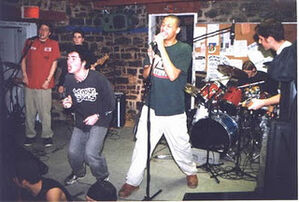 Gervai's Attack was a punkrock / skatepunk band from Lévis, Quebec, Canada.
Biography
Edit
Gervais Attack was a punk rock band from Lévis, Quebec. They've begun playing together in March 1996 when making a little show of Green Day, NOFX and Pennywise covers in front of some friends. Since then, the band has changed a lot. They recorded their first demo tape (called "Le Rassemblement")on March 4 and 5 in 1997, and the demo went out in April. On this demo, we can hear about 11 compos and 9 "Patro" covers. The sound of the tape all fucked up because of the ex-drummer's mastering... In August '98, Gervai's Attack has recorded their first cd called "Pinch+Pad=Danger!". This cd sounds like pop punk and there are 11 studio recording songs and 6 home recording songs on it... The band finally kicked up their drummer Carl "Moukie" Pelletier after the November 7 show with the bands Pull to Start and Sidewalk 62. They found their new drummer Jean-Sébastien Roy in March '99 and since then their style has changed to be more punk rock than ever. During all its story, the band Gervais Attack had many difficulties, and the band has never been really stable. In november of 2001 after a year of total inactivity, the band Gervais Attack has finally "died". Since 1996 they had 19 shows, 2 studio recordings, 2 demos and 2 compilation participations.
The name Gervais Attack comes from the name of a priest really special called Gervais Labbé.
Benoît Bégin - Vocals
Jean-Philippe Boucher - Guitar
Olivier Boetsa-Carrier - Vocals
Olivier Boucher - Bass
Jocelyn Laliberté - Vocals
Jean-Sébastien Roy - Drums
Discography
Edit
DemotapesEdit
1998 - Pinch + Pad = Danger!
2000 - No More Lonely Nights (Demo CD)
CompilationsEdit
Song: Zooporno
Song: We Are The Pigs
Ad blocker interference detected!
Wikia is a free-to-use site that makes money from advertising. We have a modified experience for viewers using ad blockers

Wikia is not accessible if you've made further modifications. Remove the custom ad blocker rule(s) and the page will load as expected.