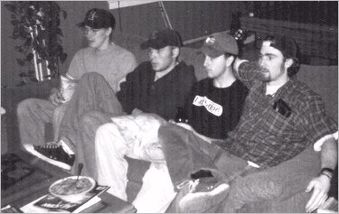 Five Knuckle Chuckle was a canadian skate-punk band formed in the early 90's , well known for having a nasally singing, infectious vocal melodies and harmonies thrashy guitar riffs, juvenile lyrics and fast drumming with alot of fills.
Biography
Edit
Five Knuckle Chuckle formed in Orangeville, Ontario, Canada under the name Noah Fence in the early 90's (as early as 1991 or 1992). They released two demo tapes (We Like The Geebee in 1993 and Turfed in 1994). They then changed their name to avoid similarities to NOFX, who at the time were becoming really popular. After having renamed themselves Five Knuckle Chuckle, they released their debut full length Charliee Horse on Raw Energy Records in 1995. This is their second Raw Energy full length release.
Discography
Edit
1993 We Like The Geebee
1994 Turfed
1995 — Charliee Horse
1997 — All Hammed Up!
Skatepunkers
Edit
Ad blocker interference detected!
Wikia is a free-to-use site that makes money from advertising. We have a modified experience for viewers using ad blockers

Wikia is not accessible if you've made further modifications. Remove the custom ad blocker rule(s) and the page will load as expected.