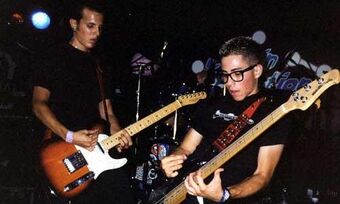 Broken Cedars was a christian melodic punkpop/skatepunk band from Chino, California.
Biography
Edit
Broken Ceders recorded two albums of which only one ("Forever") was released physically. Their second one ("Where's the Moon?") was never released, but they had it on their website for downloading. Their first release "Forever" was ranked a Diamante Music Group Top Ten Seller and reached to the top three of all screaming GIANT releases. Broken Cedars broke up. Johnny has been progressing in his music career and touring with a banc called 'The Kry' and at the same time working as a carpenter. Josiah joined US marines and Daved still played music in some bands like "The Cochino" or "Western Eyes".
Johnny - Vocals and guitar
Daved - Bass and vocals
Josiah - Drums and vocals
Discography
Edit
2000 — Forever
200x — Where's The Moon?
Skatepunkers
Edit