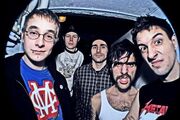 Atlas Losing Grip is a skatepunk / punk rock band from Lund, Sweden.
Biography
Edit
The band was formed around 2005. Their debut album, Shut The World Out followed the release of a demo, both of which saw Stefan Bratt taking on lead vocal duties.
The band toured Europe in support of Shut The World Out, and the album was released in Japan.
Rodrigo Alfaro, of Satanic Surfers fame, was later recruited to take the mic. He was a friend of the band and had contributed back-up vocals on the debut album. In 2008, with the same lineup plus Alfaro, Atlas Losing Grip recorded and released an EP, Watching The Horizon. With this release the band took an edgier, melodic hardcore sound as opposed to the pure skatepunk of their debut album.
More European tours followed. When the band was ready to hit the studio again, they created their latest offering, State Of Unrest. The album was released in May, 2011, to widespread acclaim within the skatepunk community.
Rodrigo Alfaro - Vocals

Stefan Bratt - Bass

Gustav Burn - Guitars

Max Huddén - Guitars


Julian Guedj – Drums
Discography
Edit
2008 – Shut The World Out
2011 – State Of Unrest
2009 – Watching The Horizon
Skatepunkers
Edit